Experience & Explore
Take advantage of all that Tigh-Na-Mara has to offer: explore our 22 acres of tranquil forest and 3 kilometres of sandy beach. Definitely, bring your camera to capture the natural beauty that surrounds us including hundreds of species of birds like Bald Eagles, Herons and Northern Flickers as well as an abundance of marine life all at our doorstep. Enjoy all the great amenities our resort provides and contact us with any questions, so we can help you and your family create the getaway that you're looking for.
The Natural Choice to Create Memories that Last
Grotto Spa at Tigh-Na-Mara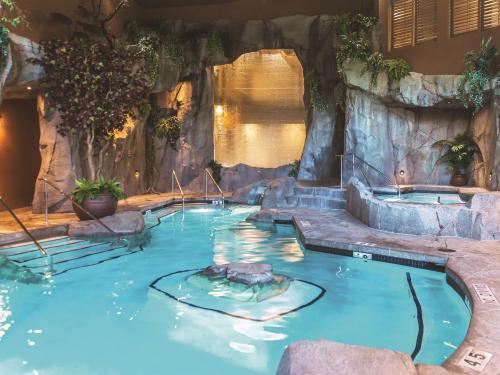 Voted #1 Spa in Western Canada by Spas of America, the Grotto Spa believes in offering guest experiences that go beyond the expected. Treatments include facials, body wraps, body glows, massages, manicures and pedicures, many with a focus on West Coast natural ingredients. All Grotto Spa guests who book a 60 minute treatment receive complimentary access to the Grotto Mineral Pool, invigorating cool-splash waterfall, whirlpool and Relaxation Lounge on the day of their treatments. Designed to emulate a natural stone grotto, the 2,500 square foot warm water pool is infused with natural minerals and trace elements to detoxify the body and rejuvenate the spirit. Resort Guests are welcome to visit the Grotto Spa Mineral Pool by reserving ahead of time and with a cost of $45 per person. With 20,000 square feet of spa bliss, we give relaxation a whole new meaning!
Kids at Tigh-Na-Mara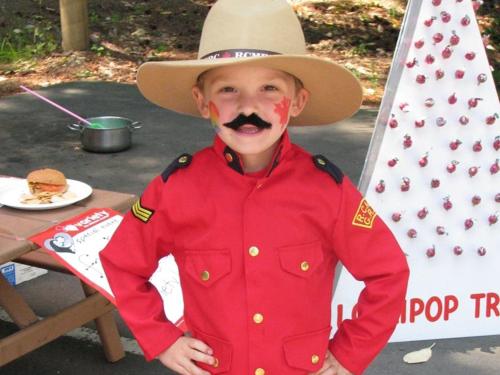 We offer the most extensive resort Recreation Program in British Columbia, with seasonal activities for kids of all ages to experience and enjoy. Our summer program has over 20 activities to choose from including: Kids' Club; Campfire Stories; Sand Sculpture Contest; Little Victories Art Studio; Ice Cream Making; and Hiking Tour to name a few. Our seasonal resort Recreation Program is available during summer & Christmas holidays as well as over Spring Break. Visit our Recreation Program Schedule for a complete list of activities.
Our playground is fun for the whole family. With double slides, places to climb and space to run, the Tigh-Na-Mara playground offers hours of enjoyment.
Babysitting Services- Tigh-Na-Mara offers babysitting services. All of our sitters have been interviewed by Tigh-Na-Mara and have their Babysitting Certification. Babysitters will provide their own transportation to and from the Resort. Children under the age of two years require a mature sitter, 18yrs and over.
Babysitters must be booked 24 hrs in advance and are subject to availability.
Play Pens and high chairs are available at the front office. If you require a playpen or high chair in your room prior to your arrival, please let us know at time of booking.
Pool House & Fitness Centre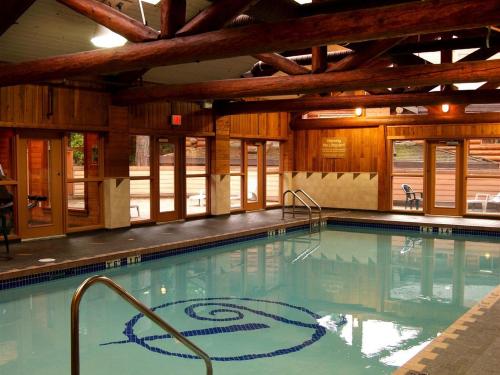 Access to the Pool House & Fitness Centre is complimentary for Resort guests and offers guests indoor swimming, a whirlpool and sauna. Towels are provided for your convenience in our beautifully appointed locker rooms. The fitness centre is equipped with Precor Cardio Theatre Exercise Equipment, weight machines and free weights. The rooftop patio, located directly above the Pool House is available during regular Pool House hours and offers outdoor chess and lounge chairs.

Hours of Operation
7am- midnight, 7 days per week
10pm- midnight, adults only
Ocean Swimming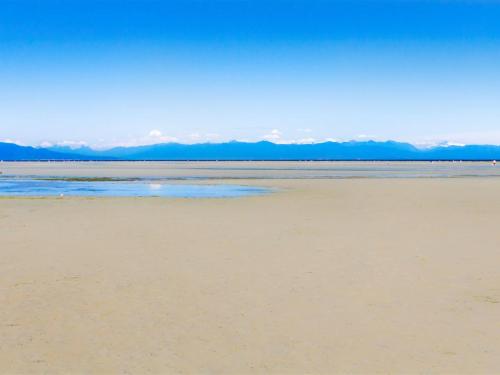 Parksville is known for its sandy beaches and the warmest ocean waters in Canada. Tigh-Na-Mara is situated on three kilometers of sandy, tidal flat beach, meaning the tide goes out approximately one kilometer, leaving behind small pools that heat up in the sun. When the tide comes in, these pools mix with the cooler ocean and can be as warm as 75-80 degrees F or 25C.
Mountain Bikes (Seasonal)
Rent a bike for the afternoon and explore some of the breathtaking scenery of our area. Ride through Rathtrevor Provincial Park or through Top Bridge Trails and enjoy a swim in the river before heading back. Rentals are available for two hours, 1/2 day, and all day. We also have children's bikes and helmets.
Sports
The Resort has a tennis court, basketball hoop, a ping-pong table, a volleyball court and two horseshoe pits plus lots more - just ask the Front Desk what's available. All equipment is available at no charge.
Concierge Services
Our professional guest services team is available to help you book off-site excursions, arrange a rental car or recommend local attractions.
For additional information please email info@tigh-na-mara.com
Laundry
We have several coin-operated laundry facilities conveniently located throughout the property; beside the playground, in the lower level of the Jedediah building and across from the Grotto Spa.
Business Centre
Our business centre is located on the upper floor of the conference centre and offers our guests private work stations, fax machine, photocopier, high speed internet access.
Car Rental and Shuttle Services
We would be pleased to arrange a rental car for use during your stay. Shuttle service may also be arranged in advance within the Nanaimo or Parksville areas as well as to ferry, seaplane terminals and airports. For additional information please email
info@tigh-na-mara.com