Wedding Receptions at Tigh-Na-Mara
Rustic Splendor
At Tigh-Na-Mara Resort on Vancouver Island, we have an extraordinary team of professionals to take all the stress away so you and your guests can enjoy the experience - we LOVE being part of making your wedding reception a dream come true.
All Tigh-Na-Mara receptions venues offer a charmingly rustic ambiance complete with a cozy fireplace, natural light, and earth-toned decor. Our reception rooms can be transformed to suit all your wedding themes and colour choices. With all your interests at heart, our team of professionals will work their magic so you can celebrate the day you've always dreamed of.
A Feast for the Senses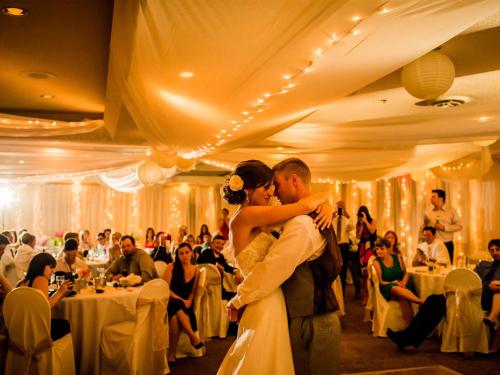 Executive Chef Eric Edwards and his culinary team will create a fabulous menu package to suit your palate and budget.
Formal, casual, plated, buffet, family style or special dietary needs- your special day at Tigh-Na-Mara will be enhanced with an exquisite meal created with you in mind.
Speak with our Wedding & Events Manager!
Rozlan Thompson, our Wedding & Events Manager, is excited to meet with you and discuss your ideal destination wedding at Tigh-Na-Mara. Rozlan is known for her warmth and genuine wish to make each couple feel at ease and happy throughout the planning process.
Whether you are eloping or planning an elaborate celebration, Rozlan is here to help. Contact her today: 250-248-1852 or rozlan.thompson@tigh-na-mara.com